Non Slip Thick TPE Yoga Mat For Gym
Product Detail
Product Tags
1. HIGH QUALITY MATERIA,this yoga mat uses SGS certified TPE material.Non-toxic, odorless, environmentally friendly and recyclable.The thickness can be selected as 1/4 or 1/3 inch, and not only durability but also soundproofing is excellent.High density materials can reduce shock and strain during exercise.
2.DOUBLE-SIDED ANTI-SLIP PROCESSING: The surface of the training mat is finely embossed, and the material is resistant to sweat and water, making it difficult to slip along with the high-end feeling.Non-slip waveform on the back can withstand friction and improve anti-slip capability.
3. VARIOUS USES & CONVENIENCE: Ideal for yoga, meditation, pilates, aerobics, exercise, abdominal exercise (abdominal roller, push-ups, crunch muscles).This yoga mat weighs about 1.92 Pounds and is easy to carry around.It can be collected compactly just by winding up the knot and saving time and space.
4.SIZE: 72inch x 24inch x 0.24/0.31inch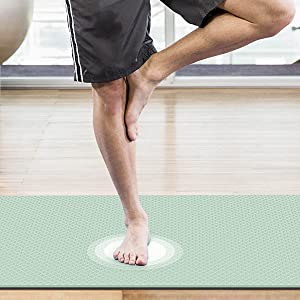 TPE material,The excellent material determines the excellent elasticity, so that when we use it, we can ensure that the sole area of the foot has enough tension to relieve the pain from the ground to the sole of the foot.Relaxation yoga.
TPE yoga mat uses an upgraded windmill texture on the back, which further strengthens its ability to hold onto the floor on the original basis. When you stand on it and workout, you won't feel any displacement of the yoga mat, and the snake texture on the front not only prevent non slip, but also add a unique temperament to the yoga mat itself.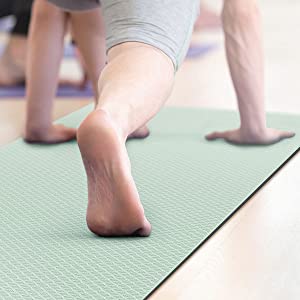 · This mat is designed for Barefoot Exercises ONLY. Not suggested to wear on shoes to use the exercise mat.
· It may have a slight smell that will fade over time. You can roll it out and place it in a cool and ventilated place for 2-5 days before your first usage.
· DO NOT place any sharp and hard objects on the mat. Store the mat after use to avoid damage from your pets and other objects.
· Maybe the mat will not stay flat on the floor when just arrived and it will curl up on the end (due to the TPE material), please put some weights on the end for a while, then you can use it comfortably.
---
Previous:
Quick-open Outdoor Tent Rain Proof
---